Western Properties Facilities Management
Offering the highest quality facilities management services in the Mid-West.

Facilities Management Services
Facilities management services are an invaluable asset to any organization, large or small. Through the management of physical assets such as buildings, grounds, and equipment, facilities management services help to ensure that all of an organization's infrastructure and assets are properly maintained, secure, and compliant with regulations.

Project Management Services
We offer construction project management services providing peace of mind for clients, ensuring that the project is running smoothly and that all involved parties are held accountable for their actions. This can help to reduce stress and anxiety associated with the project and ensure that it is completed successfully.

Fit-outs
Need an office, bar or restaurant fit-out? Call us for a free quote. We have years of experience in the provision of commercial turn-key fit-out services within the commercial (retail, hospitality) and industrial sectors (pharma, electronics, engineering).
Get a Quote For Your Project
No Project Too Big Or Too Small
Western Properties are a leading provider in Office Refurbishment and Office Fit-Out in the Mid-West and surrounding areas. Whether you need a single office or a complete building fit-out we can provide you with a competitive price and a streamlined solution that can suit your needs and timescale.
We take complete responsibility and full accountability for all our works on site with a designated  project manager who will take responsibility for the project's scope of works and project timeline from its conception through to completion.
We have over 30 years experience in the construction industry and only work with qualified tradesmen and sub-contractors with years of experience in commerical and residential work. Our Mechanical and Electrical services contractors comply with all the relevant health and safety regulations.
Our experienced teams of Project Managers and trades people consistently deliver quality work to the highest quality seen in the market. Western Properties aim to exceed client's expectations on every project, delivering on time and within budget.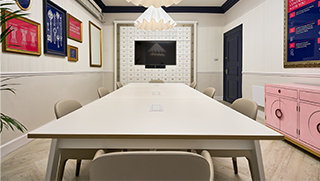 Metis Office Fit-Out
Site clear out and office fitout of an existing Georgian building for the new Metis Ireland office space and HQ at O'Connell St., Limerick.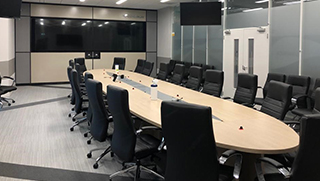 Boardroom Fit-Out
High end boardroom fit-out for a multinational company in the Mid-West. This project was completed in line with health and safety requirements and a tight time.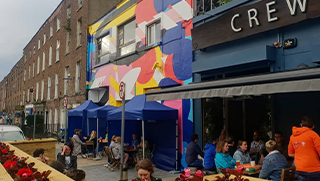 Fit-out at Crew Brewing
Fit out of microbrewery and bar in Limerick.
Let's Build Something Together
Get in touch now for a no obligation, free quotation for your next building or remodelling project.
Are you fully insured?
Western Properties have public liability and employer's liability insurance. Certificates are available for inspection. 
Do you work with architects or designers?
We love the opportunity to collaborate with architects or designers. We have experience of working with Healy Architects and Tess Stanford, Interiors Architect amongst others.
Do you take on public sector contracts?
We have tendered for and won many public sector contracts including works for the Brother's of Charity, the OPW, schools and Clare County Council.
Do you comply with Health and Safety policies?
Yes, we take our Health and Safety obligations very seriously and all of our staff are fully certified. The company has a Health and Safety policy in place. 
"John and his team offer excellent service. Western Properties are reliable, trustworthy and cost competitive"
Larry, Limerick
"We have been working with Western Properties for a number of years. The entire team are professional with a great emphasis on time management and attention to detail plus we must mention Daire here, who more often than not, has the problem solved on site before you even arrive. In our industry we don't cut corners and the physical delivery of our projects on time in a professional manner is paramount to the success of each."
Tess Stanford, Interiors Architect
"I would highly recommend Western Properties for their excellent quality of work and attention to detail. Our extension was completed on time, within budget and to a very high standard"
Limerick Home Owner