Commercial Fit Out and Refurbishment Services
We help companies create the perfect office and work environments on time and within budget with our commercial fit out and refurbishment service offering.

Office Fit Out
Create functional and well designed office space.

Project Management
Engage the services of an experienced project manager.

Quality Finish
We pay great attention to detail and expect only the best quality work from all of our sub-contractors.
Western Properties fit-out service team will help you realise your vision for a stylish, functional and cost effective fit-out solution whether it is an office, retail or education space. We have worked with pharmaceutical companies, industrial/ engineering companies, schools and colleges over the last 10 years, helping them to create the work spaces they require.
Western Properties provide a single point of contact for your project delivering a turnkey solution. Our ambition is to deliver high quality office space while offering value for money to our clients. As well as using the latest materials and technology to help with your new office fit-out, what sets us apart is our personal service and exceptional customer service.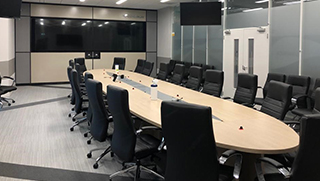 We can create the office space you need.
We offer a complete office fit out construction with high-end finishing, including mechanical and electrical fit outs, carpentry, painting and decorating. We aim to deliver your project to a high standard, on time and within budget.
What you get:
Free consultation
Experienced
Irish company
Full service offering
We are happy to offer a free consultation and to answer any questions you may have about your office fit-out.
How should I plan for my office fit-out?
In many cases companies choose to work with an office fit-out services company that will take on the project management role for the entire fit out process. This will include liaising with other specialists such as interior designer/ architect, furniture suppliers, lighting suppliers, and ceiling and partition companies, electricians/ plumbers etc.
At Western Properties we provide our clients with a schedule of the work involved in the fit out and a plan for how this work will affect your company day-to-day whilst the work is taking place whilst adhering to Irish Health and Safety legislation.
What costs are involved?
The costs involved in an office fit-out include materials and labour. Each project is different depending on the quality of the materials required and specialists involved in the project.
Can you work out of office hours?
We will always do our best to meet the needs of the client even if that means evening and weekend work.